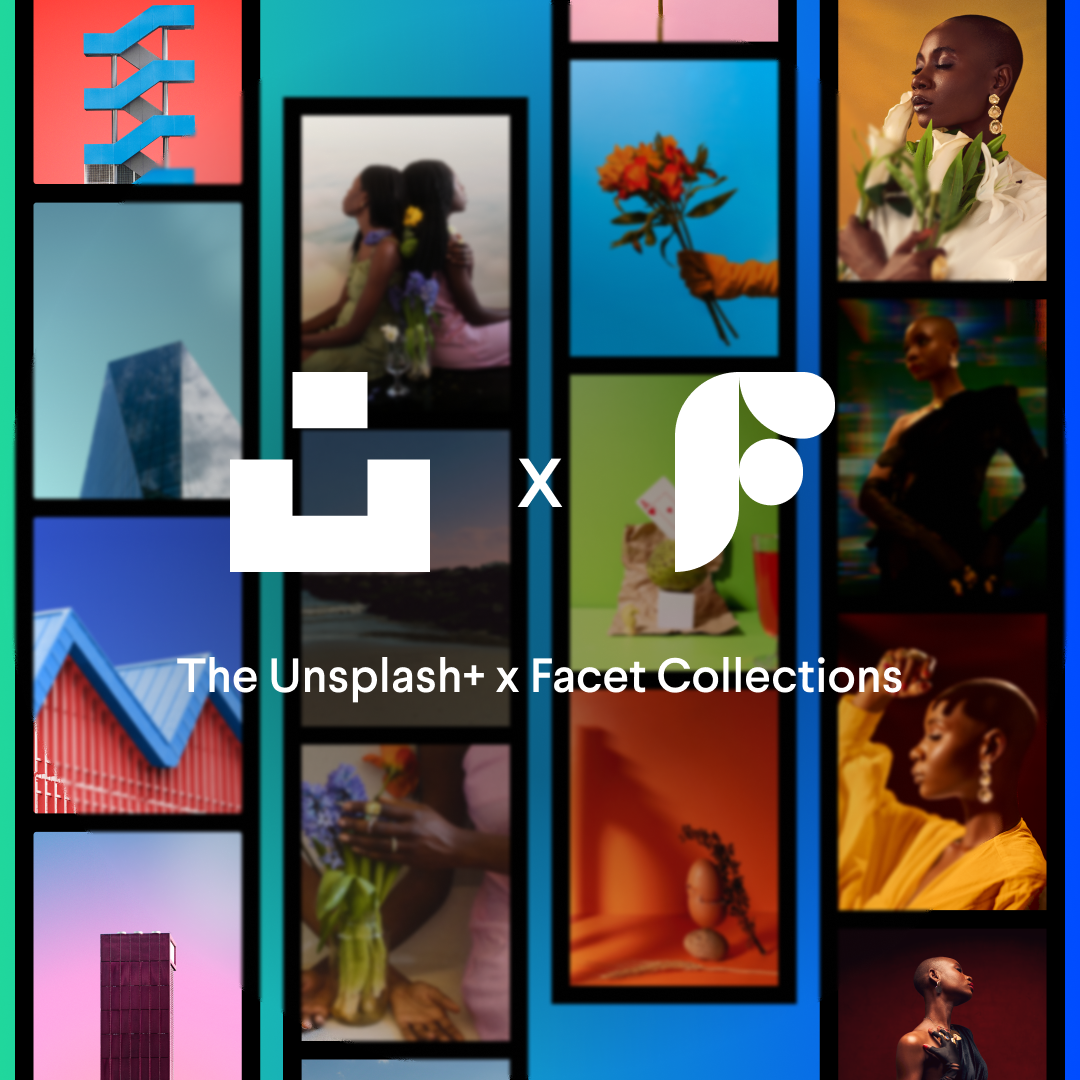 Revealing 4 new image collections by Facet artists
Discover and download four stunning new photography collections made exclusively for our new collaboration with Unsplash. Over the past couple months, Facet and Unsplash have curated a collection of 100+ images available through the premium Unsplash+ subscription, which offers member-only, higher-quality photos with enhanced legal protections and unlimited downloads.

As part of this collaboration, four Facet artists and artists-in-residence have created brand new bodies of work—collections of photographs whose subjects range from portraits to architecture to still lifes, and more. Read on to meet the artists and learn about the new collections. Visit Unsplash+ to access the full resolution images.
Meet the Artists

At Facet, we love supporting artists of all stripes. Today we are excited to connect Unsplash with a talented group of primarily women, under-represented, and international artists: Lily Kenyi, Simone Hutsch, Clara Beatriz, and Ngozi Ejionueme.

Lily Kenyi is a New York-based visual artist whose work disrupts current societal worldviews by offering compelling alternative realities. Her images often depict black women in contemporary situations of happiness, a charged contrast to onmipresent photographs which tie the black body to trauma narratives.

Simone Hutsch is a graphic designer and self-taught architectural photographer who is from Berlin and based in London. Her work pushes the limits of architectural photography by adding surreal retouches in her editing process.

Clara Beatriz is a Brazilian photographer whose work is centered on storytelling. Evoking movement from within each image, she captures a wide variety of subjects from people to architecture to products.

Ngozi Ejionueme is a Nigerian artist who tells human stories through photography across a wide range of project types, including advertising, fashion, and portraiture.
Two Tone by Lily Kenyi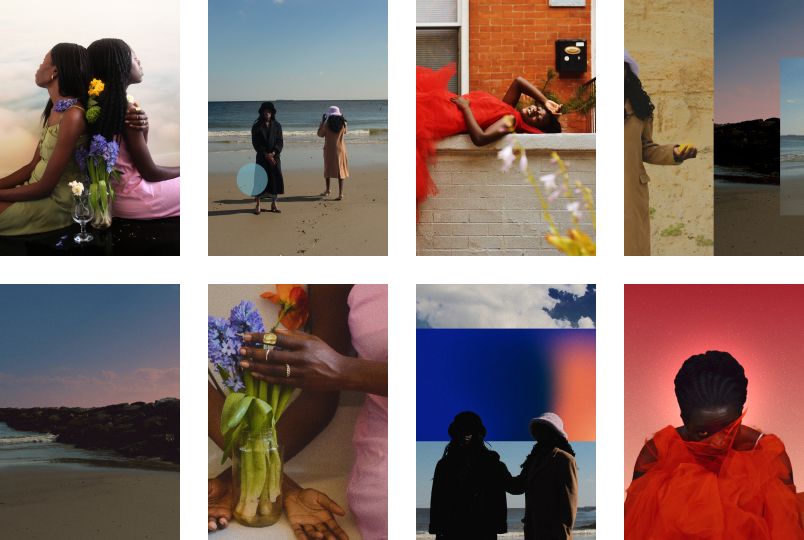 With her collection Two Tone, Lily Kenyi experiments with the contrast of light and dark, enhancing the interplay between the two by superimposing playful, colorful graphics. To achieve this play on atmospheric senses, Kenyi experimented with Facet's Gradient Fill tool and Light & Color Balance tool. The artist's body of work explores negative spaces and dreamlike states through creating film-inspired stills. Two Tone furthers this exploration by capturing her subjects in a soft and observing light, allowing the characters to move freely in the scene. Lily takes inspiration from the likes of contemporary filmmakers Steve McQueen, Mati Diop, and storyteller Michaela Coel. Visit Unsplash+ to experience the Two Tone collection and facet.space to remix the styles from this collection for your own projects.
Architectural Pop by Simone Hutsch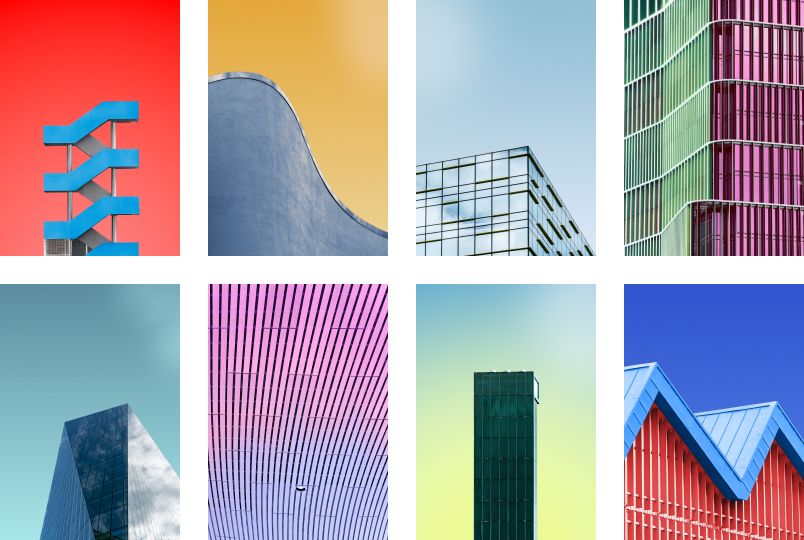 Architectural Pop is a collection of architectural variations featuring surreal color-pop backgrounds. Simone Hutsch is an expert on Facet's many fill tools such as Gradient Fill, Solid Color Fill, and Noise Fill. She experimented with combining these tools in varying ways to achieve an engaging look and feel for each of her images. Given the sheer number of images she wanted to produce, Facet's Batch Editing capability was critical - allowing her to edit one image and automatically populate changes across the set - and opening her up to test out multiple visual directions before settling on a final image. Batch editing features also let her quickly test out ways to make the colors in a building pop and techniques for how to make each image more balanced. Simone's signature backgrounds - abstracted color gradients - create surrealism and mystery. They also draw attention to the details of the building, calling the viewer to engage more intimately with the structures, facades and windows, and invite closer inspection of the architectural landscapes that surround us everyday. Visit Unsplash+ to explore the full Architectural Pop collection and facet.space to remix the styles from this collection for your own projects.
Portraits by Ngozi Ejionueme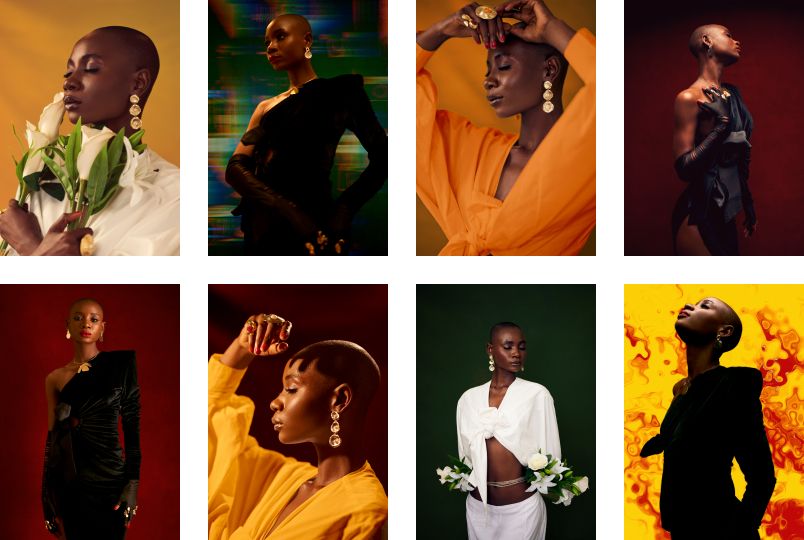 Portraits is a stunning collection of portraits showcasing our individual yet connected personalities. Ngozi Ejionueme takes inspiration from the many facets of our individualistic personalities, personifying individual differences, while reminding us that no matter how different we are, we are all connected. Each portrait evokes a sense of soulfulness and character. Ejionueme used Facet's Solid Color Fill tool to find cohesion and highlight the emotion and humanity of each individual. Visit Unsplash+ to access the full Portraits collection and facet.space to remix the styles from this collection for your own projects.
Organic Dreams by Clara Beatriz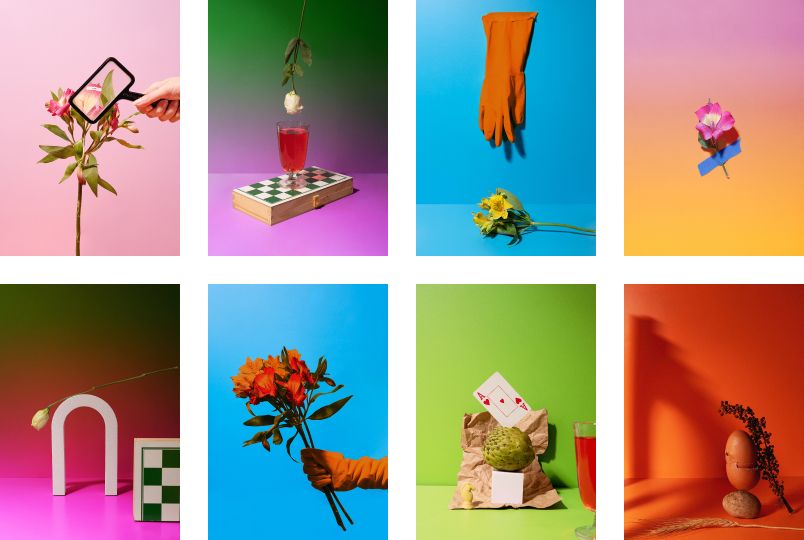 Organic Dreams is a collection featuring vibrant compositions of organic objects juxtaposed with the quotidian. Clara Beatriz creates oneiric and colorful images by using organic objects such as rocks, fruits, and flowers. By bringing in shapes and other daily objects, she strikes a surrealist balance, inspired by painters such as Frida Kahlo, Giorgio De Chirico, Magritte, and Dalí. Using Facet's Automask tool and various color adjustment tools, Clara was able to explore variations of unusual colors on specific areas of her images such as a hand, glove, or flower. Music, cinema, and painting are her main sources of inspiration and she mixes different techniques, lighting, and objects to tell a story through each image. Visit Unsplash+ to discover the full Organic Dreams collection and facet.space to remix the styles from this collection for your own projects.
➡️ Made something amazing with Facet? Drop us a line at create@facet.ai.

Get started today and show us what's possible. Share your latest #madewithfacet with us on Instagram!
Sign up for free or log in today.
💜 The Facet Team