Our desire to humanize and simplify the photo editing process isn't just about the tools we've built, like automasking and AI-powered color matching. It's inherent to the platform itself. From day one, we've focused on building a platform that's human-centric and accessible to all, starting with our decision to be a web-based app.

In case you're wondering what a web-based app is, it's just like it sounds: a platform that lives on the web—and runs on the cloud—instead of in the Apple App Store or Google Play store. New, popular tools—Figma, Airtable, and Notion, to name a few—all have proven that web-based apps work wonders. Below, we'll explain why we chose this route, and how it fits our company philosophy.

We feel strongly about making Facet as accessible as possible. We want it to work wonderfully on any OS and any make and model of computer. In short, we want to democratize access to it. Building our platform to work on a browser like Chrome lets us achieve this. You don't need expensive software licenses or constant software updates to use Facet. All you need is access to the internet. This approach also reflects our commitment to open source environments, which our founder Joe grew up immersed in. As opposed to a closed system like Apple or Adobe, where app developers and creators end up paying extra fees and where in-house development is done in secret, our browser-based interface supports a more collaborative environment, since Google software is open source. By building Facet on Chrome, we support the open internet and get to contribute back: we're able to catch browser bugs and report them back to Google's development team, which helps make a better tool for all.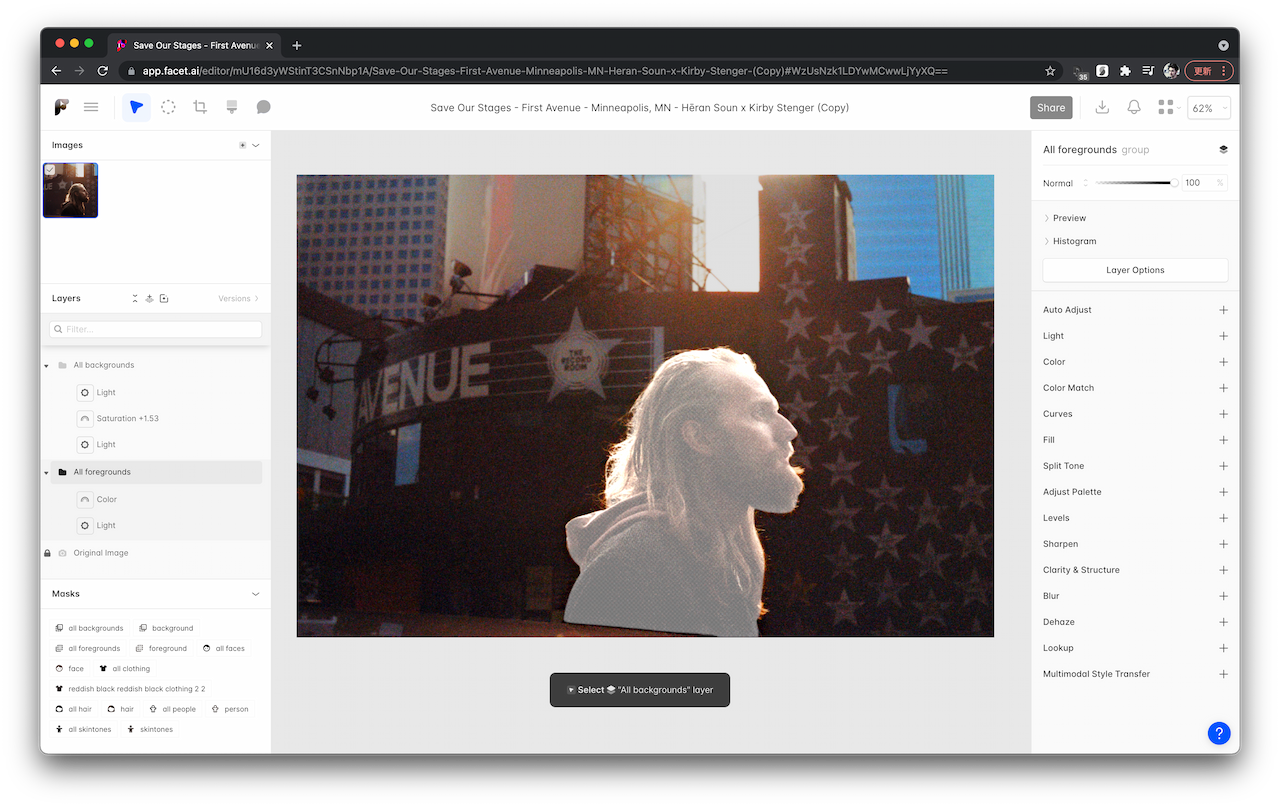 Speaking of collaboration, it's another reason we chose to host our platform in the cloud. The facility of collaboration enabled by the cloud is unparalleled. Instead of having to download, upload, and email files to share them—talk about clunky!—you simply copy and paste your Facet project's URL to share it. Collaborators can use that link to view and/or edit the project right on their own computer. Being browser-based also makes it easy for developers to work with our software, letting them develop plugins you can download to even further improve your workflows.

In terms of workflow, Facet is committed to open processes, and our files are uniquely designed to ensure that you can share and learn from the artistic process as well as the final product. When you choose to share your file, or view a file on facet.space, the creative process is fully inspectable. You can explore how others use Facet's automasking and AI color grading to make their photos come to life. You can even clone a project to learn directly from artist-driven, AI-assisted edits, remixing them to jumpstart your own Facet project.

Lastly, web-based apps like Facet are simply more streamlined. There's no software downloads and tons of increased flexibility for you. Every time you log into Facet, all updates are immediately there for your use, no installation required. The no-download system, and the fact that your work is saved in the cloud in Facet, mean you can work any time, anywhere, on any machine you want. Just log in, and all your work will be there, waiting for you.

Dig back into what you're working on by logging in here, or sign up here to get started for free.