tl;dr: we're launching Facet for professionals and teams. Sign up now and reserve your custom sharing domain facet.ai/@you
As a kid growing up on the 90's internet, discovering Photoshop 4.0 was the first time I truly became captivated by a piece of software. It had an inscrutability and unworldly depth to it that nothing else really had. I bought a camera just so I could have some photos to use it with. At the time, Photoshop was a watershed event, suddenly rendering two decades of computer graphics research tangible to an entire generation of creative professionals and digital artists.
Fast forward to today. The internet has significantly changed the ways in which media is created, distributed and consumed. In today's digital-first world, it's easier and more important than ever to express oneself creatively: every company is a storytelling company, and every company uses rich visuals to tell stories. But the current offerings on the market have been slow to keep up with this burgeoning shift, and more than ever the demand for more assets, more creative directions, more formats, more channels is exposing the limitations of these tools.
On the bright side, over the last 5 years, progress in academic computer vision and deep learning has exploded exponentially, and is revolutionizing what is possible with creative tools. We created Facet to harness this progress in the service of digital storytelling. Put simply, Facet helps engineer images at scale, through assistive creative tools.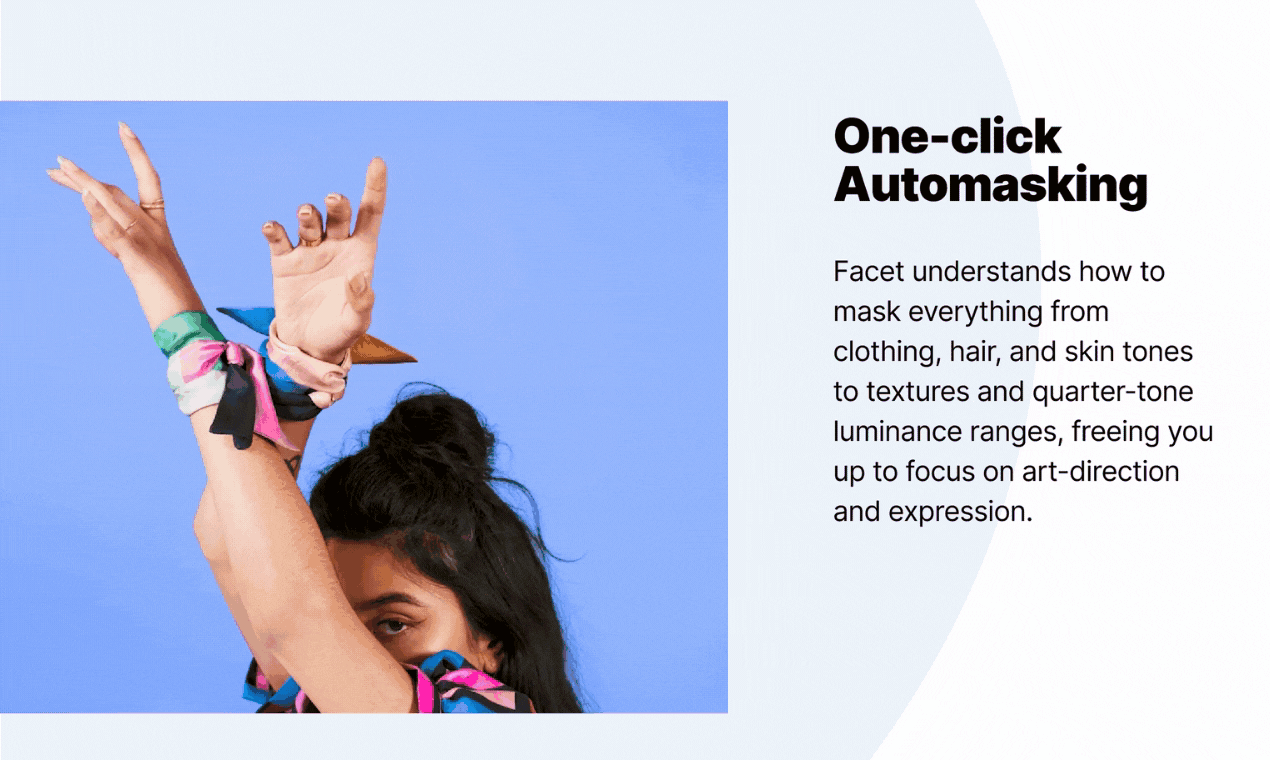 We built Facet to be a conduit between the relentless pace of lab-bound AI research and creatives of all stripes: professional photographers, retouchers, and designers, as well as the new generation of creatives working at true internet scale.
Facet is the first ever fully content-aware image (and soon to be video!) editor. Facet decomposes images and videos in human terms: lighting, color, composition, and content, powering interactive editing that goes beyond inert blocks of pixels. As a creative tool, Facet is fluent in the language of professional-grade, non-destructive editing, and is compatible with existing tools like Photoshop and Capture One. If you are familiar with modern layer-based photo editing tools, you'll be right at home with Facet.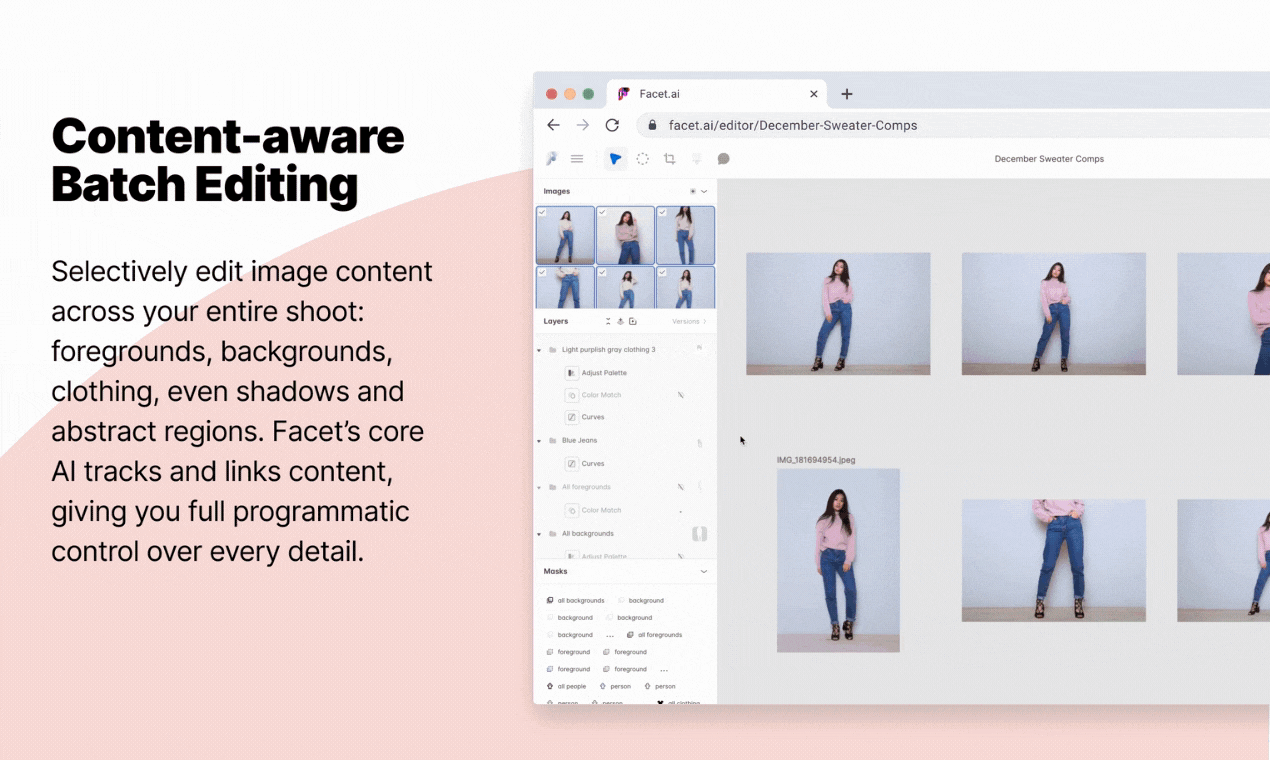 Creatives today use Facet to post-process fashion, portrait, and architectural photography, make mixed-media collages and high-impact / punchy animations, and blend oil painting with photography. Common professional use-cases of Facet include editing large collections of images in batch, precisely matching colors and styles across images to achieve on-spec, on-brand consistency automatically.
Oh and we're 100% browser-based. Why? It is the only platform that truly supports real-time creative collaboration—realizing a "multi-decade global shift from physical spaces to digital spaces" (seriously go read Dylan Field's piece if you haven't already).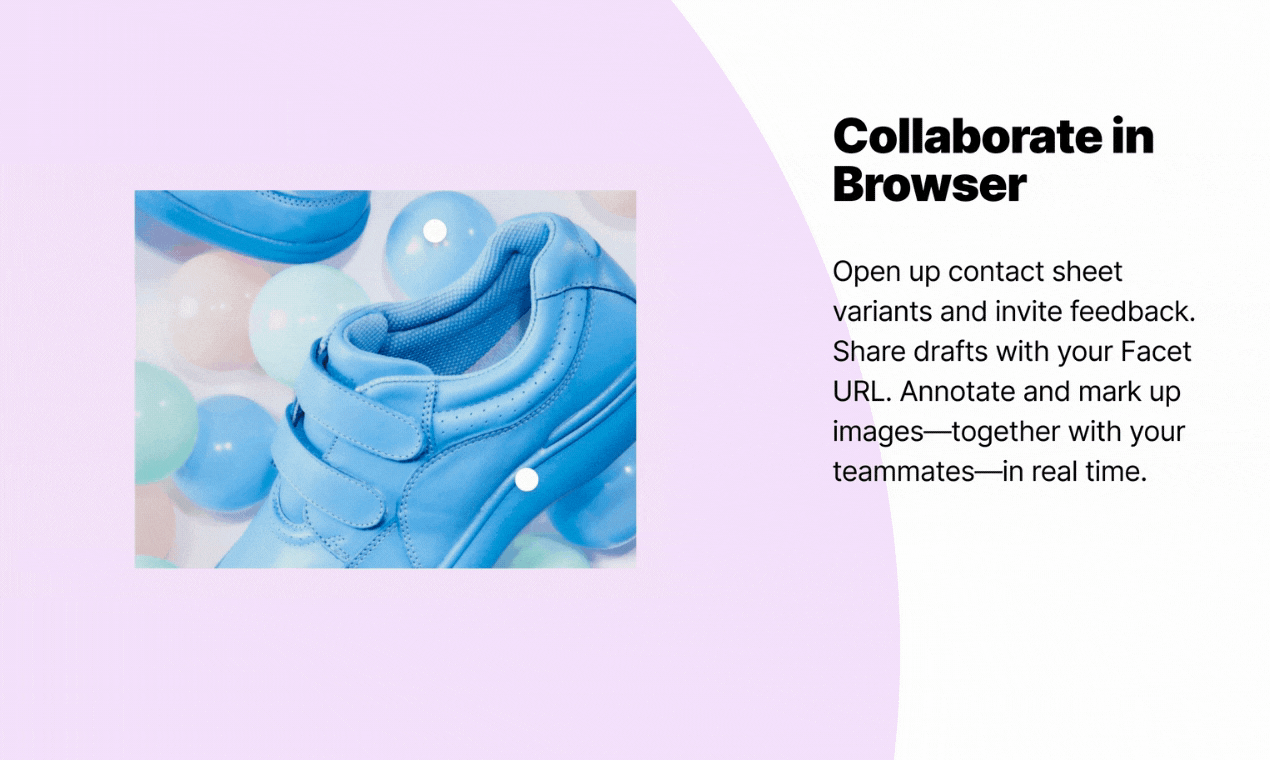 We've been in early access for the last nine months and now we're ready to take the wraps off. Over 25,000 of you have already signed up for the waitlist—in response to the overwhelming demand for Facet, we're accelerating the launch of our professional and teams tiers, making them available at a discount, starting today.
It's easy to get set up, just click here and you'll be able to create an account. As an added bonus, the first 10 users who sign up via that link will get Facet pro free for 1 year!
As a "pioneer" on the Pro plan, you will get
First dibs on reserving your custom profile and sharing domain: facet.ai/@you and you.facet.ai (normally a teams / enterprise feature);
50% off your subscription price, forever (thank you🙏);
Direct access to our development team to help fast track features and weekly product bull sessions hosted on Slack —as you would imagine, early users are *very* excited about finally being able to ditch Photoshop.
Plus, obviously, all the amazing Facet creative AI features and unlimited projects and photo storage.
Ok, but what is missing? We're shipping without RAW support, we need a revamp of our artboard model and we really want to nail Facet<=>NFT syncing and crypto support, to name a few. Joining Facet today as a "pioneer" will give you a front row seat and you'll be able to help shape the photo and video editor of your dreams.
Interested? Skeptical? We'd love to hear from you! Just hit us up at hi@facet.ai We're still early on our journey to truly bring the power of AI to the creative tools world—it's going to be insanely challenging, but we want Facet first and foremost to be a conversation.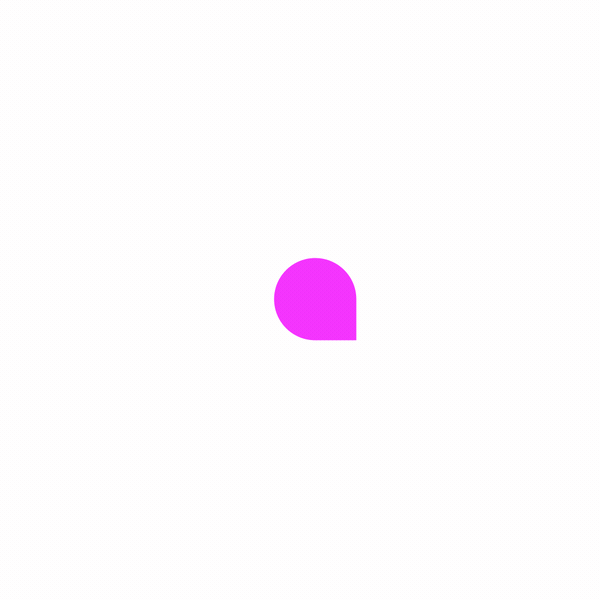 PS: Follow us on Instagram @facet.app and Twitter @facet_ai to see the latest releases and new inspiration from our users.